UPfit.today,

the application for My Motric members
UPfit.today is a free mobile app for My Motric gym members.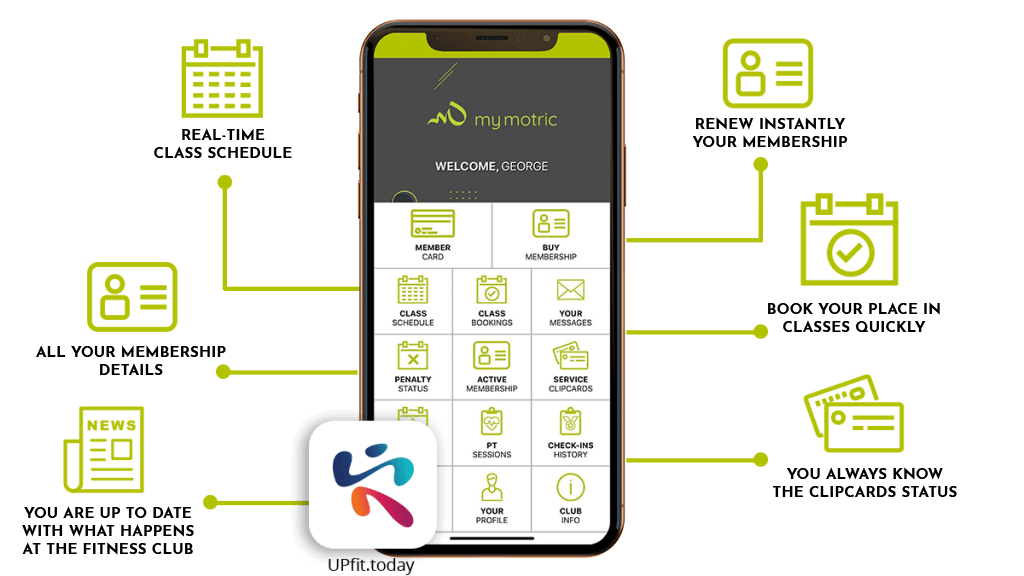 Now, you have all the information you need about all My Motric rooms in one place, you can book your classes directly from the app, you can check your subscription details at any time and you can renew your subscription on the spot.
WHY
DOWNLOAD YOUR UPFIT.TODAY APP
The UPfit.today app has a lot of useful features.
HOW TO
ACTIVATE YOUR UPFIT.TODAY APPLICATION
The first time you log into the app you must enter the unique code MYMOTRIC. Thus, you will have access to all the information you need about the My Motric gyms.
THE UNIQUE CODE FOR THE UPFIT.TODAY APPLICATION
—  MYMOTRIC  —
Steps to activate UPfit.today:
Ready! You can start using all UPfit.today features!
Relax! You won't have to go through these steps every time you open the app. The MYMOTRIC activation code only needs to be entered the first time you open UPfit.today.
DOWNLOAD
THE UPFIT.TODAY APPLICATION TOO! IT`S FREE!
No matter what type of subscription you have, the UPfit.today app is free for all My Motric members